"Féileacán na Saoirse" on Tradconnect.com nominated for Album of The Year 2014.      To vote go to http://tradconnect.com/profiles/blogs/traditional-irish-album-year-2014-1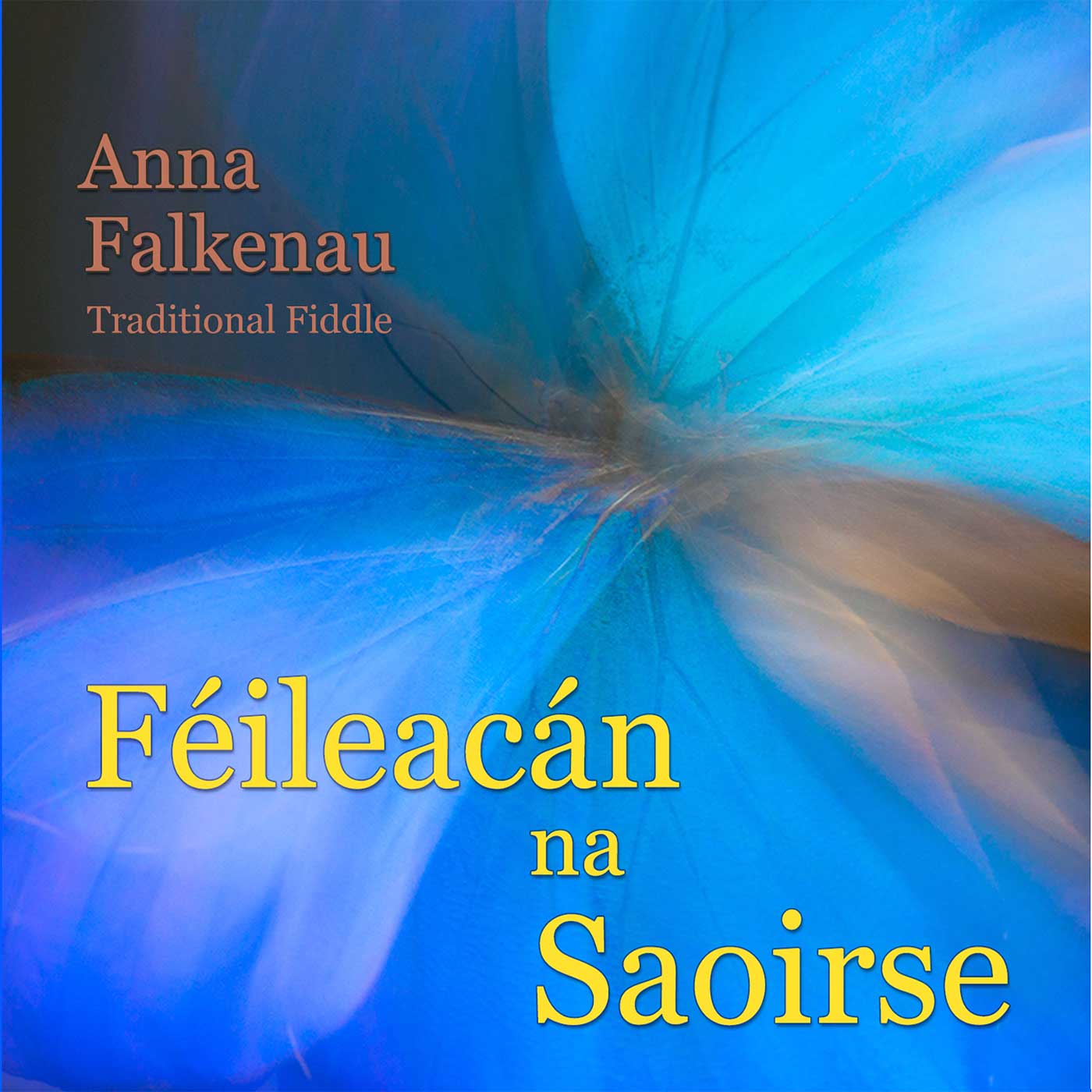 CD cover of Féileacán na Saoirse
A new CD by fiddle player Anna Falkenau with guest musicians  Ged Foley, Mary Shannon, Kevin Hough, Lena Ullman, Holly Geraghty, Steve Sweeney and Johnny 'Ringo' McDonagh
"A superb CD of airs and dance tunes from the Irish and American Old-time traditions – soulful, inventive and infectious" (Jackie Small – Irish Traditional Music Archive) read full review
"The riches afforded by this textured tune selection (along with a skein of thoughtfully composed sleeve notes) is a reminder of the benefits of the hard copy over the virtual" (Siobhán Long, Irish Times)  read full review
"spine-tingling", "a touch of the Martin Hayes genius"(Alex Monaghan)  read full review
"Her personal style lends itself equally to swinging jigs, fiery reels and emotional slow airs" (Folkworld) read full review
Anna Falkenau CD 'Féileacán na Saoirse'
LAUNCH gig at THE CRANE, GALWAY, 2014
"The happy occasion of the launch of a wonderful new CD by composer and fiddle player Anna Falkenau was the first happening in the exciting programme of events of the 2014 'Galway Sessions' festival in Galway.
The new CD is titled 'Féileacán na Saoirse' – the Butterfly of Freedom – and that, in turn, is the title of one of the tunes on the CD, one composed by Anna – and, like all of Anna's music, it is a very beautiful and very subtle piece with a very reflective and evocative atmosphere – played superbly, on this occasion on unaccompanied fiddle, by Anna herself.
How would one describe Anna's music? First of all it is, of course, traditional music, but that description alone does not get us very far. Traditional music is used in lots of different ways in our society. For example, it can be functional, in that it can provide lively music for dancing; it can be social, in that it can be the vehicle for gatherings like music sessions, which are like musical conversations; it can contribute to community-building, in that it can be the binding agent to build communities of people with like interests – as it does, for example, these days for our young people, who form lasting friendships at their music classes, summer schools, and so on.
All of these are very worthy uses for traditional music, and they render very valuable services to our society. But, somehow, they don't encompass the full beauty and subtlety of music like that of Anna Falkenau. When one thinks of Anna's music, what comes to mind might be something like the following:
The great uilleann piper Jimmy O'Brien-Moran recently completed a very illuminating PhD thesis about the Galway piper Paddy Conneely, who lived at about the time of the Irish Famine – that is to say, more than a century-and-half ago – and in that thesis Jimmy quotes an episode from a novelist of Conneely's time, William Carleton, who often wrote about music themes in his novels. In that episode, a piper spoke about his own place in the music community of his time, and he said the equivalent of the following: 'There are lots of fine pipers around here who play for the dancing, but I'm not one of those 'foot pipers' – my music is for the heart and for the soul!' And so it is with the music of Anna Falkenau – here we have music that aspires to the highest function that music can have in our lives: it is for the heart and for the soul! Anna's music enables our hearts to soar, like the butterfly of freedom, into regions of emotion and imagination that are largely untouched by the day-to-day functionality of much of the traditional music that we hear around us!
Anna comes from Germany, but she has become a native speaker of the idiom of Irish traditional music. In fact, like many before her who came to live among the Irish, she has become more Irish than the Irish themselves; and by that is meant that she has come to a deeper understanding of the most profound depths of expression in the Irish tradition than have many Irish musicians themselves.
Most indicative of that, for many enthusiasts of her music, is her deep affinity with the music of Sliabh Luachra. She has, as if by magic, found her way to one of the deepest wells of music expression in the Irish tradition. In general, it's rather mysterious why a particularly rich tradition might flourish in one particular area, rather than another. What we do know is that a tradition of surpassing beauty and expressiveness grew in that area of rushy hills in the eastern part of county Kerry and the western part of county Cork. And it is here, in the beautifully expressive slow airs of Sliabh Luachra, that Anna Falkenau has found the deepest well of inspiration that enriches this CD.
But, it should also be stressed that, as well as the beautiful – and beautifully played! – airs on this CD, there are also lots of sprightly, atmospheric and witty tunes, many composed by Anna herself, and accompanied by an array of superb musicians and accompanists!
This new CD has something very interesting in common with another CD that was launched recently, also in Galway – the new CD by the singer Bernie Pháid: both are a mixture of Irish traditional music and old-time American music. The big difference between the CDs is, of course, that Bernie's is from the singing traditions and Anna's is from the instrumental traditions. But both CDs in their different ways, share a very interesting mix of styles. And on Anna's CD, the old-time American tunes evoke as beautifully expressive an atmosphere as do her Irish tunes!
This new CD from Anna Falkenau is recorded, mixed and mastered in Germany and Ireland to a high degree of professionalism, and the design of the package is particularly beautiful! The CD package contains extensive and fascinating information about the music on the CD.
May this new CD by Anna Falkenau, 'Féileacán na Saoirse' – the Butterfly of Freedom – soar on wings of melody and expression!"
(Jackie Small)