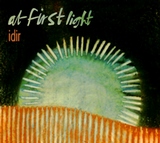 At First Light are back in fine form with their second album Idir, released close to six years after their debut release. 
The band was established in 2001 when 'Lúnasa' founders John McSherry and Michael McGoldrick released their critically acclaimed collaborative album, 'At First Light'. The line up has changed since then with the addition of Uilleann piper and bodhrán player Francis McIlduff (of the famous McPeake clan) bringing a new mix of dual pipes to their live gigs. Shortly after the name At First Light was adopted.
The opening to the album is a magnificant masterclass of interplay between flute and pipes in arrangements that have elements of Bill Whelan or Cormac Breatnach. However this opening shows that these musicians can soar above these fine talents with arrangements that are sublime in their structure. The opening set is amply named The Magnificent Six. The second set of reels is as equally impressive with self compositions added to the mix.
This sets the tone for a an album that includes slides, hop jigs, airs and reels with some fine vocal performances from Ciara McCrickard. The fiddle playing of Dónal O'Connor is never lost behind the uilleann pipes and provides many shifts in tempo which add a well balanced variety to the album. This adds significantly to it's overall feel, keeping the listener interested throughout. The closing set of reels again include self compositions with the mix between guitar, pipes and bodhrán simply magnificent. All in all a very enjoyable experience and here is looking forward to their next outing.
Guest musicians include Tony Byrne, Ruben Bada, Michael McCague on guitar and bouzouki.
Tony Lawless