Came across this album which sounds great . Its an album that focuses  solely on the fiddle music from the south west area of Donegal and is called the The Far Side of the Glen. It was launched at this year's Ennis Trad Festival.

The album  features two well respected Donegal fiddle players, Derek McGinley from Mín A'Chearrbhaigh, in the parish of Glencolmcille and Tara Connaghan from Glenties.

Tara and Derek we understand have been playing together for many years in sessions, on stage and in various projects, have developed a repertoire and form that respects both their styles. 

In 2003 they featured as a duet on RTE's The Raw Bar series celebrating the music and memories of Packie Manus Byrne. They have toured occasionally showcasing the music of south west Donegal and they both teach at annual fiddle festivals in Donegal where huge respect is shown for passing on the music of the area.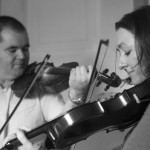 The CD features just two fiddles throughout and was recorded over 2 days in a cottage near Carrick, Co. Donegal. The launch will be followed by a short tour during the winter and spring months. If you're into something a little different, try this one out for size.